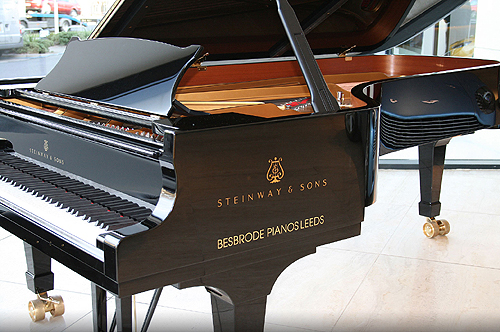 "The Steinway piano is such an incomparable instrument. Due to its virtues, I am able to express all my musical feelings."
Daniel Barenboim
"I want to make music. That means I prefer the Steinway piano."
Alfred Brendel
"I wish to thank Steinway for its wonderful pianos which I've been privileged to play in all my concerts. There is no piano like it in the world."
Evgeny Kissin
"My friendship with the Steinway piano is one of the most important and beautiful things in my life."
Krystian Zimerman
Quotes taken from: https://www.steinway.com/steinway/quotes.shtml
Globally, the Steinway piano is the preferred choice for nine out of ten concert pianists. Why? Steinway's mission statement is convincing:
"Steinway pianos have been built to a standard, not to a price"
Unlike other piano manufacturers who rely on automated production to speed up output and cut costs, each Steinway instrument is lovingly hand crafted by master craftsmen and can take up to a year to build. This commitment to excellence also means that only 5000 Steinway pianos are made per year. Steinway Pianos was established in 1853 and is founded on the European tradition of pianomaking. Quality control is underpinned through the master and apprentice tradition spanning generations. Each piano made today embodies over 100 patented and improved features ensuring that the Steinway you buy today is at the pinnacle of piano research and technology.
Today the Steinway brand is synonymous for Quality, Tradition and Desirability.
Why invest in a Steinway piano?
Making the right investment decisions is always a gamble. Currently as banks are in crisis, an increased number of people are investing their money into luxury products rather than stocks or shares. Common product investments include property, jewellery, classic cars or antique furniture. Why not consider a Steinway piano.
Forbes has published various data relating to the appreciation in value of a Steinway piano over time.
In a Forbes article "The Cost Of Living Extremely Well Index" dated 12.10.01, the price and appreciation of a variety of luxury goods was compared.
| | | | | | | |
| --- | --- | --- | --- | --- | --- | --- |
| Product | 1976 Price | 2000 Price | 2001 Price | % Change 2000 to 2001 | % Change Adjustment for Inflation (1976 to 2001) | % Annual Change Adjustment for Inflation (1976 to 2001)* |
| Steinway Model D Concert Grand Piano | 13,500 | 83,100 | 86,100 | 3.6 | 106.2 | 2.9 |
| Rolls-Royce Silver Seraph | 38,000 | 219,900 | 229,990 | 4.6 | 95.7 | 2.7 |
| James Purdey & Sons Shotguns | 20,000 | 105,487 | 114,686** | 8.7 | 85.4 | 2.5 |
| Dom Perignon, case, from Sherry-Lehmann | 300 | 1,500 | 1,500 | 0.0 | 61.7 | 1.9 |
| Gucci Loafers | 89 | 335 | 350 | 4.5 | 27.2 | 1.0 |
https://www.forbes.com/2001/12/10/1203clewi.html
In another article "The Cost Of Being Rich" dated 10.11.04, Forbes stated "While the overall Consumer Price Index climbed 3% over the last 12 months, Forbes' index of 41 luxury goods climbed an average 4.2%". This is reflected in the price of a Steinway Model D Concert Grand Piano which in 2004 was $96,100 had made a 4% increase from 2003.
https://www.forbes.com/forbes/2004/1011/064.html
In the article "The Price of Living Well" dated 09.20.07 Forbes stated "Over the past year the cost of our basket of luxury goods climbed 6%, more than double the rate of inflation". This is reflected in the price of a Steinway Model D Concert Grand Piano which was $107,100 in 2007 a 4% increase from 2006.
https://www.forbes.com/2007/09/18/cost-living-well-index_richlist07_clewi.html
On the Steinway website, a graph is displayed showing the resale appreciation of Steinway grand pianos. It illustrates how the retail value of a Steinway bought in past decades has doubled, quadrupled and is even over ten times the value that was originally paid for the piano.
https://www.steinway.com
Besbrode Pianos Leeds: Appointed Steinway Agent
If you are interested in purchasing a Steinway piano, why not contact us for more information. Besbrode Pianos Leeds is an appointed Steinway and Sons agent based in Yorkshire. We occupy four floors of a large Victorian mill and have over 250 pianos on display ready to play and compare at any one time. As Steinway agents, we stock brand new Steinway pianos with the full range of Steinway piano models available to order.
View our range of brand new Steinway pianos
We also have a large selection of antique, art cased and secondhand Steinway pianos available to suit varying budgets.
View our range of antique and art cased Steinway pianos
An investment in a Steinway is a sound investment for the future. When you own a Steinway & Sons Piano, you have acquired a precious heirloom for future generations...